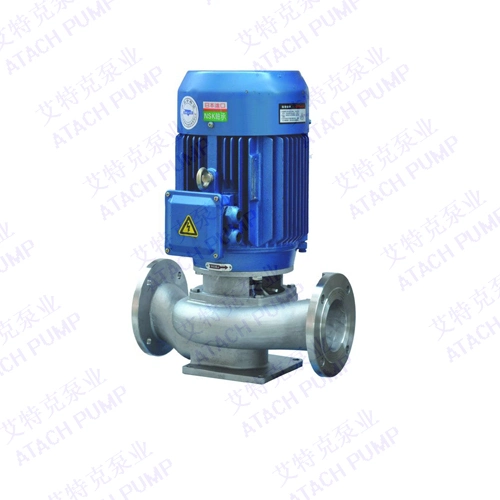 - Name of pump:304/316 Stainless Steel In-Line Centrifugal Pump For Sea Water Booster System
- Pump Type: Pipeline Pump

- Pump model: GDF40-20

- Pump brand: ATACH

-Installation Type: vertical Close-Coupled

- Impeller Quantity: 1 pcs

- Rated pump capacity: 11.4 m3/h

- Rated pump head: 20 m

- Power/speed: 1.5 Kw/2900 r.p.m

- Power supply:3 phase/380V/50HZ
(also supply special voltage,special frequency, explosion-proof motor, High efficiency and energy saving motor )

- Material Supply: SUS304,SUS316,SUS316L

- Shaft Seal: Mechanical seal

- Inlet / outlet : 40mm*40mm

- NPSH: 3.2 m

- Main usage:
1. Pressure boost
2. Water circulating
3.Water transportation
4.Medical care
5.Food
6.Chemical Industry
7.Dyeing and weaving
If you need other specifications or parameters of GDF series In-line Centrifugal Pump , please contact us in detail.