>>> Product description
KYW high efficiency no leakage end suction water pump are made by way of improving the design of KYL series vertical centrifugal pumps of this Co. with the performance parameters identical to those of KYL series and in line with the requirements of ISO2858. The products are produced strictly according to the relevant requirements, so they have a stable quality and reliable performance and are the brand-new ones instead of model IS horizontal pump, model DL, pump etc. ordinary pump.
High efficiency No leakage End suction water pumps are divided into basic type, flow-expansion type, A, B, C cutting type etc, In more than 250 specifications and with a flow range of 1.5-1200m³/h and a head range of 8-150m. And, per the different fluid and temperatures, model KYWR hot-water pump, model KYWH chemical pump, model KYWB oil pump.
KYW end suction water pump is high-effective energy-saving products, which are successfully designed by ways of adopting the property of worldwide centrifugal pumps, and the unique advanatges of horizontal pumps. It is strictly in accordance with ISO2858 world standard and the latest national standard JB/T53058-93. This hydraulic pump develops into hot water pump (KYWR/KYLR), chemical engineering pump.
>>> Product Features
1. Compact structure, small volume, beautiful outlook.
2. Easy to mount.
3. Stable running.
4. No leakage.
5. Easy to maintain.
6. The pump can be installed flexibly.
>>> Product Chief Usage
1. KYL (KYW) series vertical centrifugal pump is used to deliver pure-water and other liquids, the physical properties of which are similar to those of pure-water, in industrial and cities water supply and drainage, high buildings booster water supply, garden irrigation, fire-fighting booster, remote water supply, warming systems, circular booster of cold and hot water in bath rooms as well as in completions of equipments. The operation medium temperature is blew 80º C.
2. KYL (KYWR) series vertical hot--water pump is used for the warming hot--water booster circular system and the hest-transport system of production technology in the units where heat-station, residual hest utilization, metallurgy, chemistry, tactile, wood-processing, paper-making etc. Industrial boilers high-temperature hot-water, the operation temperature is blow 120º C.
3. KHL (KYWH) series vertical chemical pump is used to transport the liquids containing no solid grain, corrosive and the viscosity of which is similar to water for the departments of light and textile industry, petroleum, chemical industry, metallurgy, electricity, paper-making, food, medicine and synthetic fiber etc. The operation temperature is 20º C~120º C...
4. YG (KYWB) series vertical non-explosive oil pump is used for light and textile, mechanical tec. Industries to transport non-corrosive, inflammable, explosive liquids, the medium temperature is from 20º C to 120º Cand density less than 1000kg/m3.
>>> Product Working Conditions
1. If the said pressure is larger than 1.0Mpa so as to use cast steel material for the over-flow and joints parts.
2. Proper medium: the medium for pure-water pumps should have no corrosive liquid and the volume of non-melting medium-solid should not be over 0.1% of the unit volume and the graininess less than 0.2mm. please notify at order if the medium to be used with small grain.
3. No larger than 40 degrees for the ambient temperature, no higher than 1000m of the above-sea level and no more than 95% of the relative humidity.
>>> Product Easily Damaged Spare Parts
1. Impeller
2. mechanical seal
3. shaft bearing
it is recommended that the easily damaged parts should be replaced by in one year, three years, five years accoring to different pump models. so that the pump will be used for a little longer time.
>>> Product Structure Chart
| | | |
| --- | --- | --- |
| No. | Name | Quantity |
| 1 | Pump Body | 1 |
| 2 | Impeller | 1 |
| 3 | Nut of Impeller | 1 |
| 4 | Gaspulp | 1 |
| 5 | Pulp | 1 |
| 6 | Pump Cover | 1 |
| 7 | Machanical Seal | 1 |
| 8 | Water Baffling Ring | 1 |
| 9 | Motor | 1 |
>>> Photo Image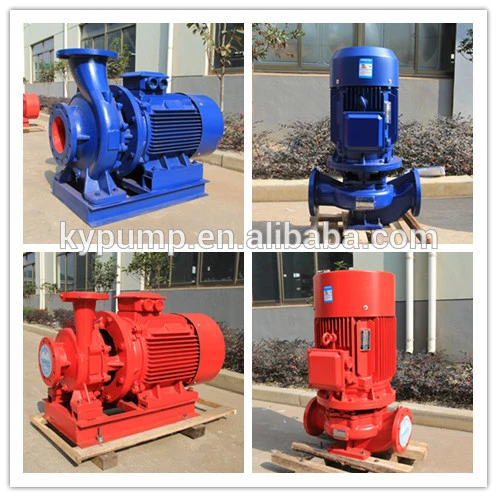 >>> Company Information&Advantages
Shanghai Kaiyuan provides booster pumps, submersible pumps, sewage pumps, fire fighting pumps, multistage vertical (horizontal) water pumps, diesel engine water pumps, water supply equipment and other pumps. Here we have modern production base of 60000 square meters, and 3000 square meters of office, professional R&D institution and technology team, which makes us a world-class company. At present, we have two factories, one is in Fengxian District, Shanghai City; the other is in Nantong City, Jiangsu Province. So welcome to visit our factory.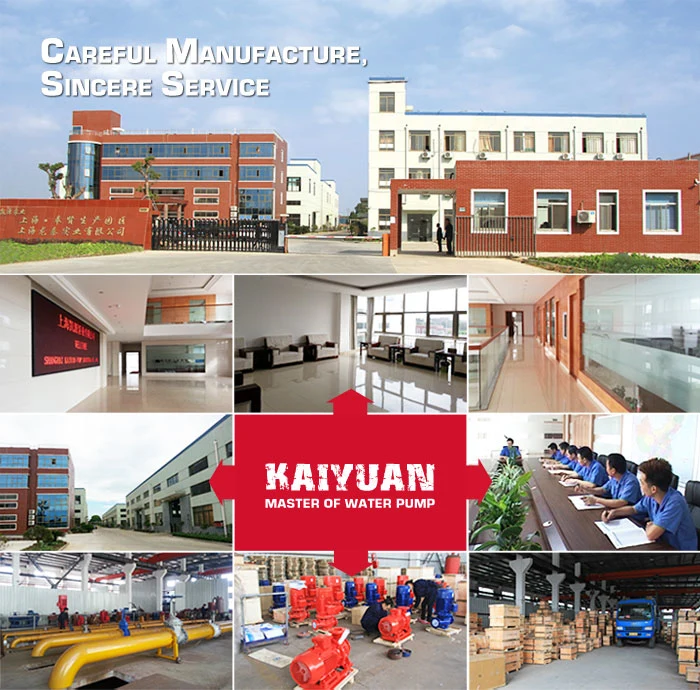 1. Punctual delivery time:
We put your order into our tight production schedule, keep our client informed about production process, ensure your punctual delivery time.

Shipping notice/ insurance to you as soon as your order is shipped.
2. After sales service:
After receiving the goods, We accept ur feedback at first time.

We could provide installation guide, if you have need, we could give you global service.

Our Sales are 24-hours online for ur request.
3. Professional sales:
We value every inquiry sent to us and ensure quick competitive offer.

We cooperate with customer to bid tenders, and provide all necessory document.

We are a sales team, with all techinical support from engineer team.
Shanghai Kaiyuan Pump have many global clients, we offer professional service to them. With the aim of "to establish a close strategic partnership and develop together with customers". we will work whole heartedly to improve our products and service. We will also pledge to work jointly with businese partners to elevate our cooperation to a higher level and share success with together with our customers. We are looking forward to establishing relationships with you in the near future.

>>> Contact Details