Anti-Corrossion Self Priming Centrifugal Sewage Water Pump for Oil, Sewage and Chemical Liquids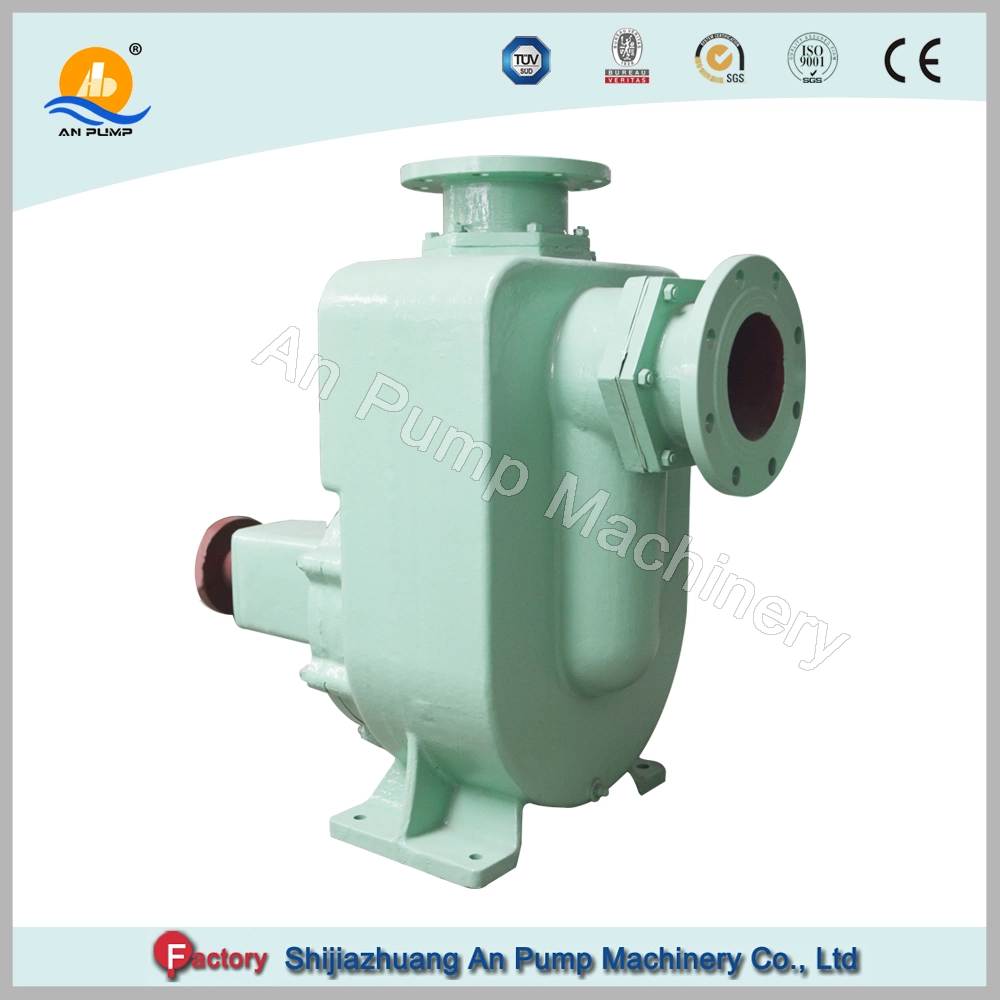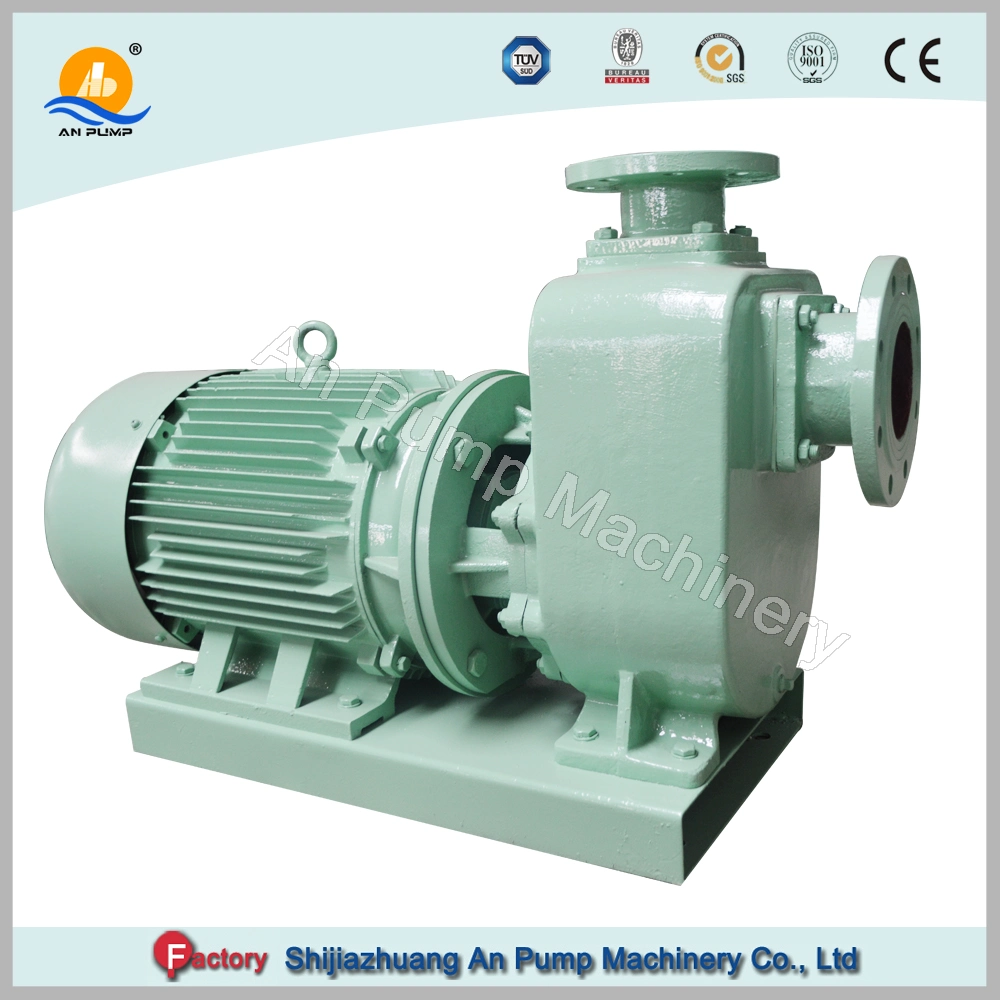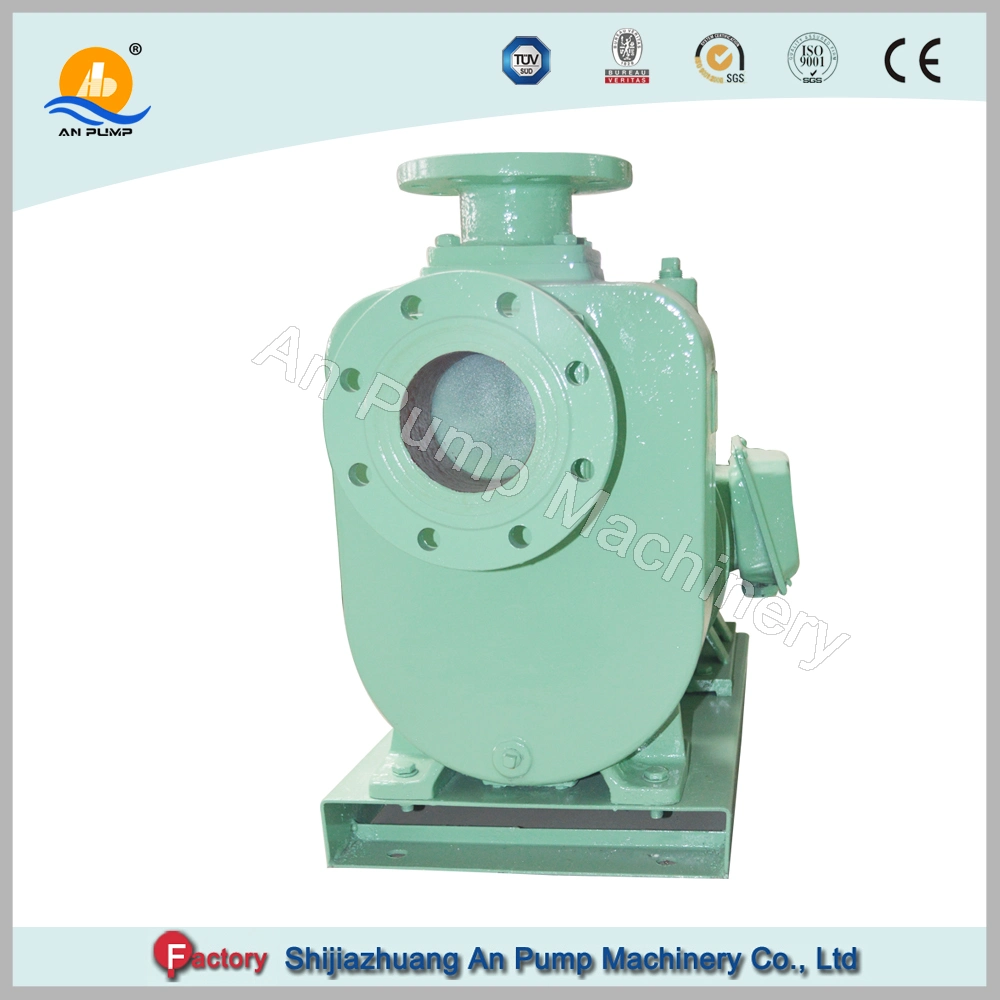 1.protable non-clog sewage self-priming pump
2.Material:SS.bronze,cast iron
3.Size:1''-12''
4.Drive:diesel engine,motor
>>>>>>>Overview
QZX series selfpriming centrifugal pump is a new modified centrifugal pump which is developed on the basis of absorbing domestic and overseas advanced technology of the same product and combing many years design and manufacturing experience of our company .
It stands out the advantage of simple structure , convenient operation and maintenance , stable working , high efficiency , long life , good self
priming performance etc. It need not bottom valve in the pipeline . It just needs to have amount of liquid in pump for self-priming before starting pump . So it predigest pipeline system and improves working condition .
>>>>>>>>Specification:

1. Outlet Diameter: 2''(50mm) to 12''(300mm)

2. Flow Rates: 8m3/h~1275m3/h(20GPM~5500GPM)

3. Head: 6m~63m

4. Horsepower: 1HP~125HP

5. N. W: 92KG~998KG

6. G. W: 114KG~1066KG

7. Solid Passing: 20.63mm~76.2mm

8. Material: Cast iron, ductile iron, stainless steel, cast steel, aluminum, bronze

9. Diesel Driving: Water cooled or air cooled

10. Method of connection: Self priming pumps are available as basic units or may be flex-coupled, V-belt driven or engine mounted.

11. Drive Variation: Diesel engine , Electric Motor

12. Skid Mounted on Trailer: 2 wheels or 4 wheels trailer/trailor

13. Package: Standard Wooden Case

14. Certification: ISO9001: 2000,CE
>>>>>>Features:
1) Cantilevered, horizontal, centrifugal, single stage
2) Widely application: They are designed for handling abrasive, high density slurries in the metallurgical, mining, coal, power, building material and other industrial departments.
3) Long bearing life: The bearing assembly is with large diameter shaft and short overhang.
4) Wear resistant and anti-abrasion wet parts: The wet parts can be made of hard metal (24-28% Chrome alloy) or pressure molded rubber. They are completely interchangeable with each other. More materials are also available.
5) Easily replaceable liners: Liners are bolted to the casing.
6) Simple maintenance throat-bush: The mating face of the throat bush is tapered, so the wear is reduced and removal is simple.
7) Easy adjustment of impeller: An impeller adjustment mechanism is provided below the bearing housing.
8) High efficiency and high head design are also available.
9) Centrifugal seal, mechanical seal and packing seal are available.
>>>>>>Application:
Air conditioning plants
Building service
Fire Fighting systems
Irrigation / Sprinkler systems
Paper mills
Pharmaceuticals
Sugar Mills
Vegetable Oil Mills
Water / Effluent Treatment
Water supply
General Purpose Requirements
| | | |
| --- | --- | --- |
| Construction | Industrial | Municipal |
| Agricultural | Mining | Dewatering |
| Industrial Waste | Sewage | Oil Field |
| Petrochemical | Paper Mills | Processing |
>>>Company Introduction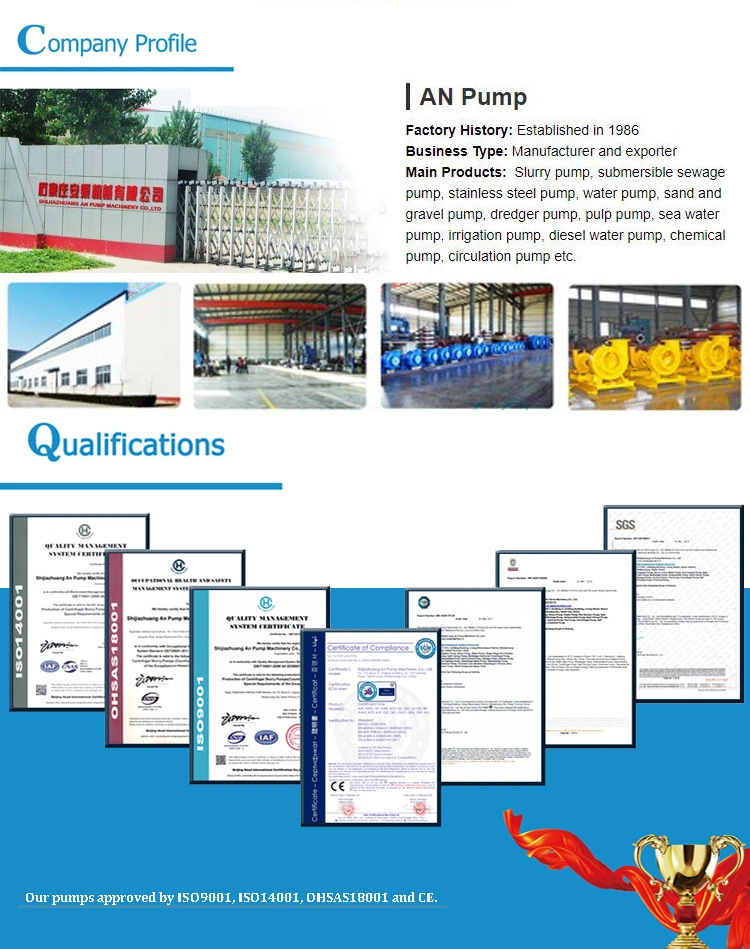 Shijiazhuang An Pump Machinery Co., Ltd is one over 30 years experienced pump manufacturer (established at 1986) in mining and mineral, power plant, dredging and dredge, hydraulic, irrigation, pulp transfer, chemical, construction, sea water and oil & gas transfer etc.; An Pump Machinery is the pump factory has its own pump selection & design, research and development team to assure provide you efficient, energy saving slurry pump, water pump, diesel water pump, chemical pump and irrigation pump in selection & design, use and maintenance program.
An Pump Machinery is the pump factory approved by ISO9001, ISO14001 and OHSAS18001. We also have the certificate of CE. Our factory is over 50,000 square meters with the professional engineer over 20. The Max casting parts weight we could do one time is 7 tons. And we have capacity to produce 600 tons per month and with the heat treatment furnace dimension 6mx5.5mx2.5m. The Max parts we could machine is 6.4 meters and we have capacity to assemble the pump over 1800mm and our cranes capacity is 30 tons.
An Pump Machinery products include slurry pump, sewage pump, water pump, acid resistant or chemical pump, irrigation pumps, fire pumps and other products exported to over 90 countries all over the world. The application covers many fields, such as mining and mineral processing, dredger, tailings transportation, mining, steel, desulfurization pump, boiler feed water, construction, irrigation, water conservancy facilities, sewage treatment, drainage and water supply.
In the era of rapid development of science and technology, An Pump Machinery team take the entrepreneurial spirit "excellence and constant product quality, brand known worldwide and Credit-based", business purpose "the achievements of create brand enterprise and industry pioneer", to help you out and provide quality & cheap innovative products!
>>>FAQ
(1). Q: Are you a trading company or manufacture?
A: An Pump Machinery Co., Ltd is a real large professional manufacturer more than 32 years, in China, produce with our own factory.
(2). Q: what's your factory workshops ?
A: My factory produce include casting, mechanical process, lathe process, heat treatment, assembly, and test etc.
Warmly welcome to visit & test my factory any time.
(3). Q: How about your QI series centrifugal end scution pump price?
A: We are sure our price is factory price, and insist hig quality for our long term cooperation.
(4). Q: What is your QI series end suction pump material ?
A: For the QI end suction pump, we could produce cast iron, cast steel, stainless steel, bronze, and material high CrMoNi alloy.
And we could also produce as your requirements.
(5).Q: What kind of liquid can your QI series centrifugal end suction pump transfer?
A: Liquid range: water, chemical liquid, hot water, sewage etc.
(6). Q:How does your factory do regarding quality control?
A:"Quality is priority. we always attach great importance to quality controlling from the very beginning to the very end.
Our factory has 15~30 QC.
(7). Q: Is it easy for customers to change the parts by myselves ?
A: yes, the structure is simple ,customers can change it very easliy. We will also supply you maintenance tools for free.
(8). Q: How about your gravel pump warranty?
A: 1 year warranty for commplete setpump, 6-8 months for wet parts, it depends on other pump working condition details.
(9). Q: How to do if the pump or parts have operatation problem within your warranty?
A: Tell me details timely, and show me pictures, we will send you pump solution at once without any hesistation.
(10). Q: Can you install the electric motor or diesel engine with the pump for us ?
A: yes, we can, it's no problem, we are experienced in this .
(11): Q: .we don't know which pump model we need ,can you help us ?
A: yes, please tell me your detail requirements, include liquid, flow rate, head etc,
my engineers team wiill calculate & select most suitable pump model for you, offer pump solution for you.
(12). Q:How long can you reply us if we send an inquiry ?
A: Generall with in 2 hours, we will send you official quotation sheet, with price, technology data, performance curve, dimension etc.
(13). Q: What are your advantages,why should I choose you?
A: Higher Quality, our parts have 30% longer life than the originals
Short Delivery Time, for normal parts,we have stock in our warehouse
Competitive Price, we can help you cut down the cost by 30% or more
Best Services, we have technical department, quality control department and a professional sales team, we will offer professional service for you any time.
>>>Contact