Single phase in and Single phase out VFD Water Pump(CMF sytle)
Product Iamge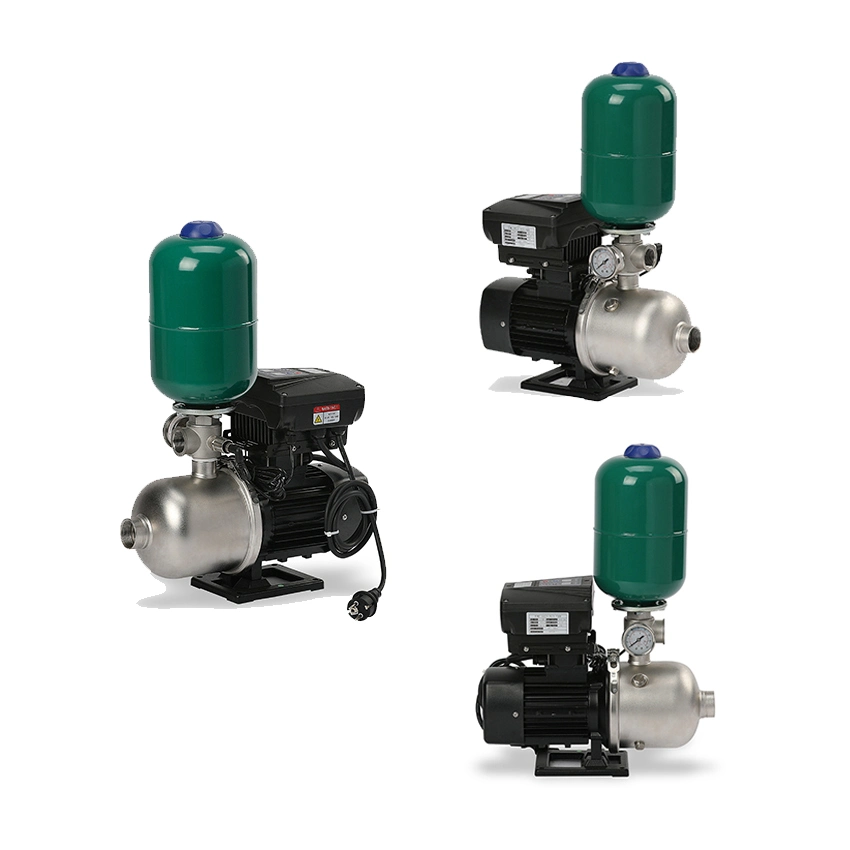 Technical parameters
| | | | | | |
| --- | --- | --- | --- | --- | --- |
| Model | power | input voltage | Rated flow(m³/h) | Rated Head(m) | mobile phone APP control |
| VFWF-16M/2-14 | 0.37kw | 1* 220V | 2.0 | 14 | extra charge |
| VFWF-16M/2-21 | 0.37kw | 1*220V | 2.0 | 21 | extra charge |
| VFWF-16M/2-28 | 0.55kw | 1*220V | 2.0 | 28 | extra charge |
| VFWF-16M/2-35 | 0.55kw | 1*220V | 2.0 | 35 | extra charge |
| VFWF-16M/2-42 | 0.75kw | 1*220V | 2.0 | 42 | extra charge |
| VFWF-16M/4-15 | 0.55kw | 1*220V | 4.0 | 15 | extra charge |
| VFWF-16M/4-22 | 0.75kw | 1*220V | 4.0 | 22 | extra charge |
| VFWF-16M/4-30 | 0.75kw | 1*220V | 4.0 | 30 | extra charge |
1.Variable frequency pump
2.water pump pressure booster
3.booster pump


Product Features
1.Energy-efficient. Compared with the traditional way of water supply, the Variable frequency pump can save the energy 30%-60%.
2.Small occupied area , less investment and high efficiency.
3.Flexible configuration, high degree of automation, complete functions, flexible and reliable.
4.Operation performance is reasonable, the average torque and abrasion on the shaft is reduced because of the decline for average speed in one day, the life of pump will be longer.
5.Because it can realize the soft stop and soft start of water pump, it can eliminate water hammer effect .(water hammer effect means direct starting and stopping ,liquid kinetic energy of a sharp change, lead to the great impact of the network, there is a lot of damage)
6.Easy installation, it replaces water tower, high water tank and traditional air pressure tank water supply device.
7.Direct pressurized water supply reduces the secondary pollution of water quality caused by traditional pressure tank water supply device.
Application Area
1.domestic commercial industry field.
2.pressure station.
3.resturants,hotels.4.residential area,villas,high-rise buildings.



FAQ

Q: Are you manufacturer or trading company?
A: We are professional manufacturer of Pressure/ Level/ Temperature transmitters,water pumps,inverters,press controlers,electronic switches etc. We provide high quality products with high competitive factory price.

Q: What's your quality control system?
A: We have strict quality control system, and each product is done fatigue testing, calibration, temperature compensation before shipment. High quality is guaranteed.

Q: Is there MOQ with your product?
A: We have no MOQ limits, 1pc for testing purpose is acceptable.

Q: Can we print our logo on the products? Do you provide customized products?
A: Yes, we can print your logo on our products; OEM, ODM&customization are welcomed.

Q: What is the warranty of your products? And after-sales service?
A: Our warranty time is 12 months after shipment, and our after-sales dpt will respond with your questions in 24hrs, remote instruction by PC network is always available.

Q: What is lead time of your product?
A: We are factory, our lead time is always within 10 working days for products without customization