2017 new pump solar submersible AC/DC /centrifugal pump
6SPSC49/31-D216/2500 SOLAR PUMPProfile:
Adopt stainless steel casing, shaft core, coupling, water entry base and pump body(or copper alloy water entry base, pump body) to avoid rust or corrosion, stainless steel impeller ,stainless steel blower inlet casing, new :"floating style" structure of impeller avoids axial pressure to motor. With combination of motor and controller, the max efficiency is over 85%, raises 25% than the traditional AC one.
Material:
Stainless steel casing, shaft core, coupling, oil entry base and pump body to avoid rust or corrosion. New polymer materials of high-strength wear-resistant
2) Oil immersion style stainless steel submersible motor.
Product Feature:
Compact structure, high-lift, noiseless, pollution-free; complete electrical protecting controller device, against under-voltage, over-voltage, over-flow, overload, wateriess etc; automatic recovery; controlling water height as demand.
Easily installation, maintenance-free, safe and reliable.
Max Head: 1-631m, Max flow: 49m3/h.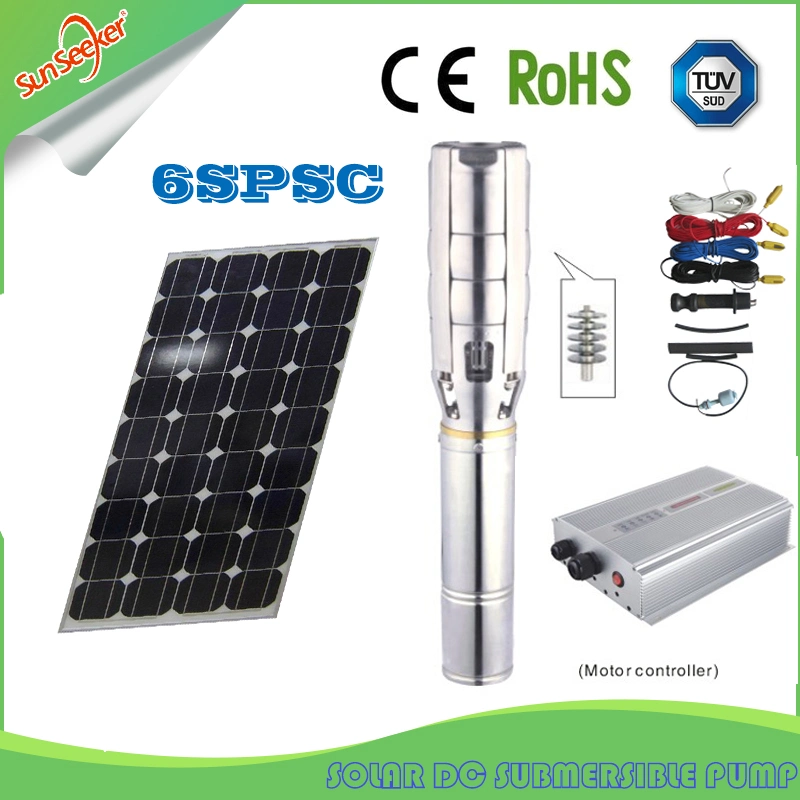 Application:
1).These electric pump series are workable with maximum head, as there are no restrictions of BDC , With the addition of high speed, high efficiency and wide high efficiency zone, they are suitable for distance water irrigation, high efficiency of increasing oxygen on aquaculture, pumping water from deep well ,gardening, fountain and etc.
Working condition:
Non-corrosive water, the volume ratio of sand content no more than 3

‰

Particle size less than 1mm.
Max medium temperature up to +40

ºC

;

PH value remains5-10
Work close to the rated head and must be immersed in water.